Selfie Lovers Start New Trend That Is Concerning Medical Professionals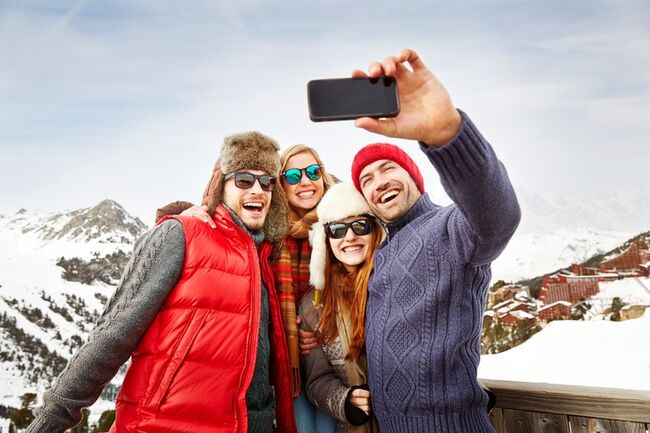 I think many of us have our snapchat and Instagram stories overloaded with selfies from friends and followers and even more so, with those selfies with filters. Sure some filters like the one that give you dog ears or even change your voice are fun but there are the filters that change your appearance and those are the ones causing a new form of body dysmorphia known as, "Snapchat dysmorphia." It's describing people seeking plastic surgery to mimic their appearance in filtered selfies, the San Francisco Chronicle reports.
Dermatologist Neelam Vashi tells the Washington Post, "sometimes I have patients who say, 'I want every single spot gone, and I want it gone by this week or I want it gone tomorrow,' because that's what this filtered photograph gave them," "They check off one thing, and it's gone. That's not realistic. I can't do that." Body dysmorphic disorder (or BDD), a mental ailment that makes people obsess over any perceived flaw in their appearance and researchers claim this new obsession may be as a result of the snap chat filtered selfies.
A 2017 survey of plastic surgeons first spotted the trend, which is fueled by photo-filtering and editing technology once available only to celebrities. "This is an alarming trend because those filtered selfies often present an unattainable look and are blurring the line of reality and fantasy for these patients," according to an article in the JAMA medical journal co-written by Vashi. What's more, BDD is a serious mental disorder that can require cognitive behavioral therapy and medication—and lead to suicidal thoughts in 80% of sufferers, per a 2007 study. Just seeing an unfiltered image of oneself "can bring feelings of sadness" for some people, says Vashi, "and then if one really develops this disorder, that sadness clearly progresses to something that can be dangerous and alarming."

Mike Daniels
Want to know more about Mike Daniels? Get their official bio, social pages & articles on Cities 97!
Read more