Do You Use These Hand Driers? You Might Want To Think Twice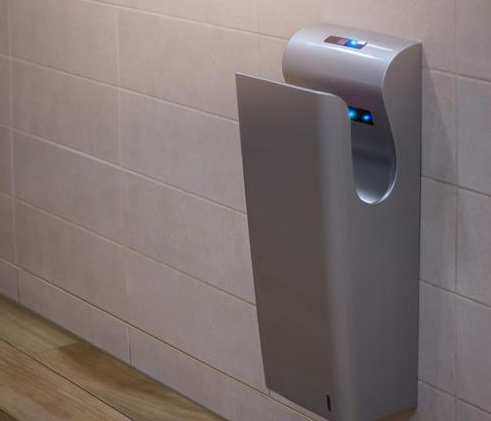 Hand dryers are great for the environment, no question. A new study by University of Connecticut scientists finds they spread fecal matter onto people's hands, CNET reports. "The more air ya move? The more bacteria stick," study author Peter Setlow tells Business Insider. "And there are a lot of bacteria in bathrooms." That's because bathroom bacteria comes from feces and gets "aerosolized" when toilets are flushed, especially with the lid up, Setlow explains. Then hand dryers apparently suck it up and spray it on people's hands, posing a possible risk for the elderly or people with health problems.
The independently-funded study looked at 36 University of Connecticut School of Medicine bathrooms and tested each hand dryer once for 30 seconds. The dryers blew up to 60 separate bacterial colonies, including staphylococcus aureus, a common bodily bacteria that's been associated with infections, CBS Pittsburgh reports. On the bright side, dryers fitted with high-efficiency particulate air (HEPA) filters blocked roughly 75% of the bathroom bacteria. But septuagenarian Setlow says he's sticking to hand towels now, and the university has added them to each bathroom studied.

Mike Daniels
Want to know more about Mike Daniels? Get their official bio, social pages & articles on Cities 97!
Read more