This will be one day.....except it'll be me joining Elsie when she's famous!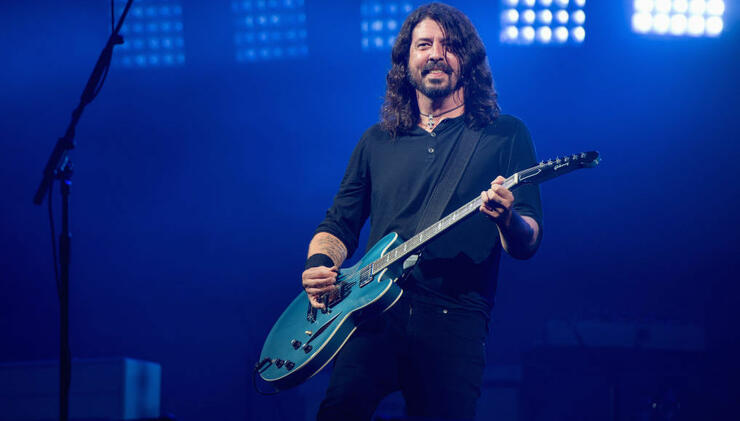 Dave Grohlmay be a rockstar, but he's a dad at heart and that side of him shined brightly duringFoo Fighters' Leeds Festival performance over the weekend. The proud papa has been lucky enough to have his daughter Violet on the road with him during their tour through the UK, and to show his appreciation he had her come out and perform their1997 hit "My Hero"in front of thousands of people.
"This has been a special trip for me because on this trip we have a new Foo Fighter in the band with us, and let me tell you something—she is the best f**king singer I know," Grohl said before welcoming his 13-year-old daughter onstage. "Ladies and gentlemen, the best singer in the Grohl family: Miss Violet Grohl right now, right here."
Dave and Violet performed the song flawlessly, swapping verses and harmonizing during the emotional chorus. Halfway through the song, the FF frontman took some more proud papa time and talked about the experience of touring with his daughter.
"Listen, I'll tell you what it's like to be on tour with your daughter," he said. "You stay up all night long watching horror movies and ordering room service, and then I get up. I've gotta make sure she's in the lobby on time; I've gotta make sure that she gets a nap and that she gets breakfast, and then I gotta make sure she gets to come out and sing to 60,000 people. That's what it's like to be a Violet girl tonight! Right Violet?"
"Right, Dad," she said with a laugh.
A fan caught the full performance on video. Watch the footage below.
Violet wasn't the only surprise Leeds festival goers received during the Foos performance — they also brought aFreddie Mercury look alikeup on stage to performQueen's "Under Pressure." The following day, at Reading, they discussed starting apetition to get Oasis back together. There's never a dull moment at a Foo Fighters show!
Photo: Getty Images