Woman Arrested For Saving Animals During Florence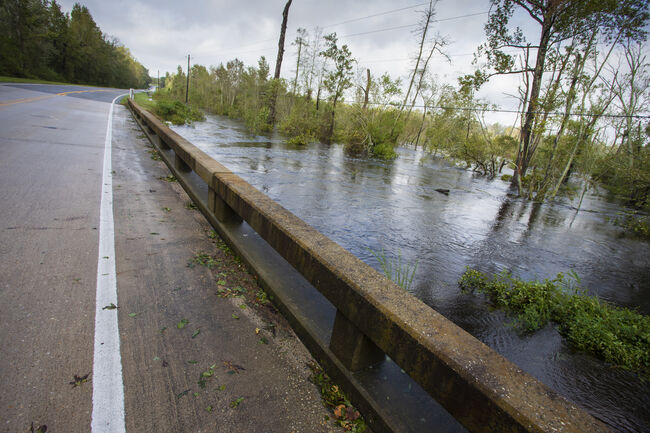 A woman was arrested for saving over 20 cats and dogs affected by Florence.
According to USA TODAY, Tammie Hedges was taken into custody on Friday after giving care to 17 cats and 10 dogs, whose owners had to evacuate before the storm rolled in.
Hedges is the owner of Crazy's Claws N Paws, a donation-based North Carolina animal rescue center that was in the process of converting a warehouse into a "proper" animal shelter. Florence coincidentally hit during this transition, so because she didn't have the right permit, her help landed her in hot water with the law.
Hedges was charged with 12 counts of practicing medicine without a veterinary license after the storm passed. She posted a breakdown of the charges in a Facebook status:
"1 count of administering amoxicillin to Big Momma, 1 count of administering Tramadol to Big Momma, 3 counts of administering amoxicillin to a white Siamese cat, 3 counts of administering a topical antibiotic ointment (triple antibiotic from Dollar Tree) to a white Siamese cat, 3 counts of administering amoxicillin to a cat known as Sweet Pea, 1 count of administering amoxicillin to an unnamed black kitten, and 1 count of solicitation to commit a crime."
As one volunteer put it, Tammie "couldn't get the animals to the vet because the vet was closed. All the charges are bogus."
Other volunteers at the shelter were in disbelief as well. The county said this about the incident:
"Wayne County Animal Services turned the case over to the Wayne County District Attorney's office based on suspicion of practicing veterinarian medicine without a license and presence of controlled substances. Ms. Hedges is considered innocent until proven guilty."
All animals were surrendered to a licensed veterinarian to be checked out. They are in the process of being reunited with their owners.
Photo: Getty Images/gsagi